It is with heavy hearts that we mourn the passing of our game's creator, Kazuki Takahashi.
Metaltron XII, the True Dracombatant
Metaltron XII, the True Dracombatant
Japanese

真竜機兵ダースメタトロン

Base

真竜機兵ダースメタトロン

Kana

しんりゅうきへいダースメタトロン

Rōmaji

Shinryūkihei Dāsumetatoron

Translated

Dozen Metatron, the True Dragon Machine Combatant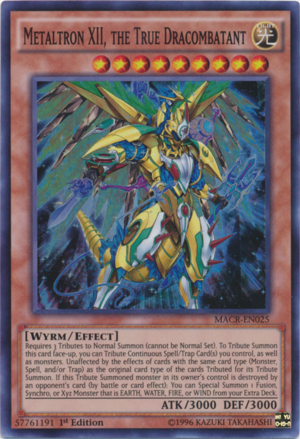 Card type
Monster
Attribute
LIGHT
Types
Wyrm / Effect
Level
9
ATK / DEF
3000 / 3000
Password
57761191
Effect types

Status
English sets
Worldwide
Search categories
Other languages
Language
Name
Lore
French

Métaltron XII, Véritable Dracombattant

Nécessite 3 Sacrifices pour son Invocation Normale (non Posable Normalement). Pour Invoquer par Sacrifice face recto cette carte, vous pouvez Sacrifier des Cartes Magie Continue/Piège Continu que vous contrôlez, ainsi que des monstres. Non affectée par les effets de cartes du même type de carte (Monstre, Magie et/ou Piège) que le type de carte d'origine des cartes Sacrifiées pour son Invocation Sacrifice. Si ce monstre Invoqué par Sacrifice contrôlé par son propriétaire est détruit par une carte de votre adversaire (au combat ou par un effet de carte) : vous pouvez Invoquer Spécialement 1 Monstre de Fusion, Synchro ou Xyz qui est TERRE, EAU, FEU ou VENT depuis votre Extra Deck.

German

Metalltron XII, der wahre Drachostreiter

Erfordert 3 Tribute, um als Normalbeschwörung beschworen zu werden. (Kann nicht Normal gesetzt werden.) Um diese Karte offen als Tributbeschwörung zu beschwören, kannst du eine oder mehr Permanente Zauber-/Fallenkarten, die du kontrollierst, sowie Monster als Tribut anbieten. Bleibt von den Effekten von Karten mit demselben Kartentyp (Monster, Zauber und/oder Falle) wie der Grund-Kartentyp der Karten, die als Tribut für ihre Tributbeschwörung angeboten wurden, unberührt. Falls dieses als Tributbeschwörung beschworene Monster, das sein Besitzer kontrolliert, durch eine Karte deines Gegners (durch Kampf oder einen Karteneffekt) zerstört wird: Du kannst 1 Fusions-, Synchro- oder Xyz-Monster, das ERDE, WASSER, FEUER oder WIND ist, als Spezialbeschwörung von deinem Extra Deck beschwören.

Italian

Metaltron XII, il Vero Dracolottatore

Richiede 3 Tributi per essere Evocato Normalmente (non può essere Posizionato Normalmente). Per Evocare tramite Tributo questa carta scoperta, puoi offrire come Tributo una o più Carte Magia/Trappola Continue che controlli, così come mostri. Immune agli effetti delle carte con lo stesso tipo di carta (Mostro, Magia e/o Trappola) del tipo di carta originale delle carte offerte come Tributo per la sua Evocazione tramite Tributo. Se questo mostro Evocato tramite Tributo sotto il controllo del suo proprietario viene distrutto da una carta dell'avversario (in battaglia o dall'effetto di una carta): puoi Evocare Specialmente 1 Mostro Fusione, Synchro o Xyz che è TERRA, ACQUA, FUOCO o VENTO dal tuo Extra Deck.

Portuguese

Metaltron XII, o Verdadeiro Dracombatente

Requer 3 Tributos para ser Invocado por Invocação0Normal (não pode ser Baixado Normalmente). Para Invocar este card por Invocação-Tributo com a face para cima, você pode oferecer como Tributo Cards de Magia/Armadilha Contínuas que você controla, assim como monstros. Não é afetado pelos efeitos de cards com o mesmo tipo de card (Monstro, Magia e/ou Armadilha) que os tipos de card originais dos cards oferecidos como Tributo para sua Invocação-Tributo. Se este monstro Invocado por Invocação-Tributo sob o controle do seu dono for destruído por um card do oponente (em batalha ou por um efeito de card): você pode Invocar por Invocação-Especial 1 Monstro de Fusão, Sincro ou Xyz de TERRA, ÁGUA, FOGO ou VENTO do seu Deck Adicional.

Spanish

Metaltron XII, el Verdadero Dracocombatiente

Requiere 3 Sacrificios para ser Invocado de Modo Normal (no puede ser Colocado de Modo Normal). Para Invocar boca arriba a esta carta por Sacrificio, puedes Sacrificar una o más Cartas Mágicas/de Trampa Continuas que controles, así como monstruos. No es afectado por efectos de cartas con el mismo tipo de carta (Monstruo, Mágica y/o de Trampa) que el tipo de carta original de las cartas Sacrificadas para su Invocación por Sacrificio. Si este monstruo Invocado por Sacrificio controlado por su dueño es destruido por una carta de tu adversario (en batalla o por efecto de una carta): puedes Invocar de Modo Especial, desde tu Deck Extra, 1 Monstruo de Fusión, Sincronía o Xyz que sea de TIERRA, AGUA, FUEGO o VIENTO.

Japanese
真竜機兵ダースメタトロン

このカードを通常召喚する場合、モンスター3体をリリースして召喚しなければならず、モンスターの代わりに自分フィールドの永続魔法・永続罠カードをリリースできる。①:このカードは、このカードのアドバンス召喚のためにリリースしたカードと元々の種類(モンスター・魔法・罠)が同じカードの効果を受けない。②:アドバンス召喚したこのカードが相手によって破壊された場合に発動できる。地・水・炎・風属性のいずれかの融合・S・Xモンスター1体をエクストラデッキから特殊召喚する。

Shinryūkihei Dāsumetatoron
Dozen Metatron, the True Dragon Machine Combatant
Korean

진룡기병 다스메타트론

이 카드를 통상 소환할 경우, 몬스터 3장을 릴리스하여 소환해야 하고, 몬스터 대신에 자신 필드의 지속 마법 / 지속 함정 카드를 릴리스할 수 있다. ①: 이 카드는, 이 카드의 어드밴스 소환을 위해 릴리스한 카드와 원래의 종류(몬스터 / 마법 / 함정)가 같은 카드의 효과를 받지 않는다. ②: 어드밴스 소환한 이 카드가 상대에 의해 파괴되었을 경우에 발동할 수 있다. 땅 / 물 / 화염 / 바람 속성 중 어느 융합 / 싱크로 / 엑시즈 몬스터 1장을 엑스트라 덱에서 특수 소환한다.
Sets in other languages
French
German
Italian
Portuguese
Spanish
Japanese
Korean