Paradise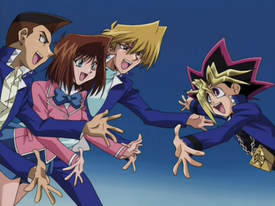 "Paradise" (楽園 Rakuen) is the third Japanese ending theme of the Yu-Gi-Oh! Duel Monsters anime, performed by CAVE. It debuted on November 13, 2001, and aired during episodes 81 to 131. It was replaced by "These Overflowing Feelings Don't Stop" in episode 132.
TV Version
[
edit
]
Full Version
[
edit
]
Characters
[
edit
]
Lyrics (Full version)
[
edit
]
Shizumanai taiyou doko made mo noboru no sa "yume wa yume" nante owarasenai deshou
"Kantan ni sutenaideyou" sakihajimeta tsubomi o hirakikaketa te ni wa……"himitsu no rakuen"

Massugu na reeru to kewashii ruuto iku ikanai mo all of yourself
Kago no naka de yubiori kazoe wa mou akita n desu

Respect! Boys tsuyogari show me bukiyou de mo chizu egaite soshite tachidomarazu arukimashou

Shizumanai taiyou fukanou o kanou ni shite yumemonogatari wa katari wa shinai
"Ikiume ni shinaideyou" me o dashiteru yokubou me no oku ni hisomu……"himitsu no rakuen"

Choushi ii biito to sabita rizumu ikasu mo korosu mo all of your freedom
Moratta kyandii o nametsukiyuku wa mou akita n desu

Respect! Girls kowagari guard aisowarai wa mou iranai dakara dokusarezu ni waraimashou

Shizumanai taiyou kimi no you ni naretara fujiyuu o jiyuu ni joushiki o koete
"Jibun o shinjitaiyou" michi mayou koto aru kedo mune ni kakushiteru……"himitsu no rakuen"

"Kimi wa itsu made owarinaki yume o miru?" Doko made makaritooru…
young voice never give up kami ga kangaeru yori more and more kiseki wa tsuzuku deshou…
The sun that never sets will rise endlessly
Can't you stop it with the "dreams are just dreams" stuff?
"Please don't throw it away so easily;" the bud has started to bloom
In your barely opened hands, there's a…"secret paradise"

There's a straight railroad and a treacherous route
Whether you'll go on them or not, it's all of yourself
I'm already tired of with counting on my fingers inside the cage

Respect! Boys, Show me your bluffs, even if you're clumsy, draw a map
and let's walk without stopping

The sun will never set, so turn the impossible into the possible
I won't talk about pipe dreams
"Please don't bury it alive;" your desire is germinating
Lurking deep in the sprout is a…"secret paradise"

There's an uplifting beat and a rusted rhythm
Whether you'll let them live or kill them, it's all your freedom
I'm already tired of with licking clean the candy that I got

Respect! Girls, guard your fears; you don't need to feign smiles anymore
So let's smile untainted

If the sun that never sets can be more like you
Turn the imprisoned into the free and overcome common sense
"I want to believe in myself;" you have gotten lost on the road
But hiding in your heart is a…"secret paradise"

"How long are you going to have that endless dream?" How far will you go unchallenged…?
young voice never give up, more than what God thinks
Miracles will continue more and more, right…?