| | |
| --- | --- |
| | Help support Yugipedia by using our Chrome extension, which redirects links to the old Wikia/Fandom site to Yugipedia, ensuring you see the most up-to-date information. If you have any issues or find any bugs, be sure to let us know on Discord! |
BOY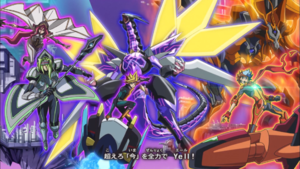 "BOY" (BOY, Bōi) is the third Japanese ending theme of the Yu-Gi-Oh! VRAINS anime, performed by uchuu;. It replaces "Writing Life" in episode 47, and is replaced by "glory" in episode 71.
Lyrics (TV Size)
[
edit
]
消えない記憶と
消えてしまった記録は
あの時の風景を
そっと "NOW LOADING..." する

置き去りの記憶
消し去った記録
PASSWORDは一体
何だったっけな?

ACCESS記録
蘇る記憶
「君の中の君」に挑め

君というNetwork
その先に広がるWorld
ここは「今」の連続だ
君はどうだ?「今を生きろ。」

空に Shooting Star
掴みとれその両手で
超えろ「今」を全力で Yell!
Can you make it! Make your free, Let me know.

Make your free, Let me know.
きえないきおくと
きえてしまったきろくは
あのときのふうけいを
そっと "ナウ ローディング..." する

おきざりのきおく
けしさったきろく
パスワードはいったい
なんだったっけな?

アクセスきろく
よみがえるきおく
「きみのなかのきみ」にいどめ

きみというネットワーク
そのさきにひろがるワールド
ここは「いま」のれんぞくだ
きみはどうだ?「いまをいきろ。」

そらに シューティング スター
つかみとれそのりょうてで
こえろ「いま」をぜんりょくで エール!
キャン ユー メイク イット! メイク ユア フリー, レット ミー ノウ.

メイク ユア フリー, レット ミー ノウ.
Kienai kioku to
Kieteshimatta kiroku wa
Ano toki no fūkei o
Sotto "Nau rōdingu..." suru

Okizari no kioku
Keshisatta kiroku
Pasuwādo wa ittai
Nandattakke na?

Akusesu kiroku
Yomigaeru kioku
"Kimi no naka no kimi" ni idome

Kimi to iu nettowāku
Sono saki ni hirogaru wārudo
Koko wa "ima" no renzoku da
Kimi wa dō da? "Ima o ikiro."

Sora ni shūtingu sutā
Tsukamitore sono ryōte de
Koero "ima" o zenryoku de ēru!
Kyan yū meiku itto! Meiku yua furī, Retto mī Nō.

Meiku yua furī, Retto mī Nō.
Memories that don't disappear
And memories that disappeared
I quietly "NOW LOADING..." those scenes

Memories left behind
Erased memories
What was the PASSWORD again?

ACCESS records
Restored memories
Challenge "the you inside you"

You're a Network
The World that spreads beyond
With repeating "nows"
What about you? "Live for now"

Grab the Shooting Star in the sky with both your hands
Overcome "now" with all your might Yell!
Can you make it! Make your free, Let me know.

Make your free, Let me know.
Existem memórias que não desaparecem
e memórias que acabaram desaparecendo
Silenciosamente, observo a paisagem durante o "NOW LOADING"

Memórias são deixadas para trás,
Registros são apagados
Afinal, qual era a senha mesmo?

Acesse tais registros,
Ressuscite tais memórias
Desafie o "eu" dentro de você

Você é uma Rede,
o Mundo se espalha à sua frente
E com o "agora" se repetindo...
E você? "Viverei o agora."

Agarre uma estrela cadente no céu com suas mãos
Supere o "agora" com tudo o que puder! Grite!
Can you make it! Make your free, Let me know.

Make your free, Let me know.
Recuerdos que no desaparecen
y recuerdos que desaparecieron.
Cargo en silencio las escenas de ese momento.

Recuerdos que quedaron atrás,
recuerdos borrados.
¿Cuál era la contraseña?

Accediendo a los registros,
restaurando recuerdos.
Reta al yo de tu interior.

Tú eres una red.
Un mundo se extiende más allá.
Es una repetición del presente.
¿Qué hay de ti? "Vive el presente".

Atrapa la estrella fugaz del cielo con tus manos.
Supera el presente con todas tus fuerzas. ¡Grita!
¿Puedes hacerlo? Sé libre y házmelo saber.

Sé libre y házmelo saber.
Changes
[
edit
]
Characters
[
edit
]
Duel Monsters
[
edit
]
Monster appearance
[
edit
]
Card appearance
[
edit
]
Card appearance (incomplete)