| | |
| --- | --- |
| | Help support Yugipedia by using our Chrome extension, which redirects links to the old Wikia/Fandom site to Yugipedia, ensuring you see the most up-to-date information. If you have any issues or find any bugs, be sure to let us know on Discord! |
Yu-Gi-Oh! VRAINS
Yu-Gi-Oh! VRAINS

Yu-Gi-Oh! VRAINS遊☆戯☆王 VRAINSYūgiō Vureinzu

Anime series
Directed by

Masahiro Hosoda (episodes 1 - 13); Asano Katsuya (episode 14 onwards)[1]; Satou Tatsuo (directing supervision) (episode 14 onwards)

Studio

Studio Gallop[2]

Network
Original run

May 10, 2017 — September 25, 2019[3]

No. of episodes

120
Yu-Gi-Oh! VRAINS[4] is the sixth Yu-Gi-Oh! anime series and the fifth main spin-off series, which began airing in Japan on May 10, 2017. It airs in Japan every Wednesday at 6:25 pm Japanese Standard Time instead of the usual Sundays as with previous series did. This series airs alongside reruns of Yu-Gi-Oh! ZEXAL as part of BS Japan's Yu-Gi-Oh! Duel Hour block. It later airs alongside reruns of Yu-Gi-Oh! 5D's starting from November 2017. The final episode aired on September 25, 2019.
On June 1, 2017, Crunchyroll began airing the show with subtitles to completion, which became available in American English, German, Brazilian Portuguese, and Mexican or Latin American Spanish. The English dub had a sneak preview at the end of a special screening of Yu-Gi-Oh! The Movie: Pyramid of Light in theaters where the first episode was aired; it aired in Canada every weekend day at 1pm on Teletoon - East starting from September 2018. The second season began airing with a different runtime; every Sunday at 1pm on Teletoon - East starting from September 2019. After the conclusion of its first arc on February 16, 2020, the second season resumed airing in the same format on April 5, 2020, and concluded on June 21, 2020. The third season in the dub also included episodes from the second season, beginning on September 6, 2020 and went on hiatus after Episode 108 - Smash and Mash aired on on Teletoon.[5] The rest of the third season first resumed airing in Australia on 9Go! every weekday at 6:30am, continuing with Episode 109 - AI vs Ai on August 27, 2021 and concluding on September 13, 2021. In the United States, the English dub began airing on Pluto TV both as a streamed show and via video on demand on November 22, 2020, airing the first two episodes on the same day.[6] In Brazil, the Brazilian Portuguese dub began airing on Pluto TV as a streamed show on February 1, 2021.[7]
The series stars Yusaku Fujiki as the main protagonist, and takes place in a high-school setting, featuring Virtual Reality Duels in a cyberspace constructed with LINK VRAINS, the latest in virtual-reality technology. As with the previous three spin-off series (5D's, ZEXAL, and ARC-V), VRAINS introduces and focuses on a new type of Summoning: Link Summoning, though the second season gradually reintroduces the previous Summoning methods, with the exception of Pendulum Summoning.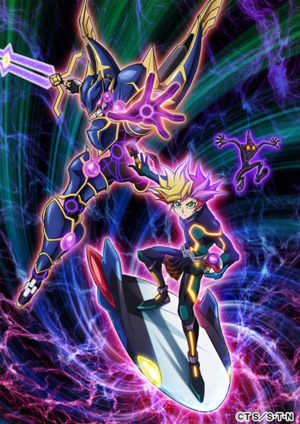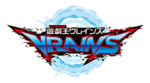 The series is based in a world roughly ten years from now, where a massive Virtual Reality Network called LINK VRAINS has been established. It's a suspenseful, thriller-style story in which Yusaku Fujiki Duels in order to learn the truth of the events surrounding his past.[8]
There is a city where network systems have evolved: Den City. In this city, with the advanced network technology developed by the corporation "SOL Technologies", a Virtual Reality space called "LINK VRAINS" (Link Virtual Reality Artificial Intelligence Network System) has been developed. By using LINK VRAINS which was built inside the Network System, Duels unfold where Duelists change their appearance separate from their real life identities, and in this VR Space people became excited over the latest way to Duel.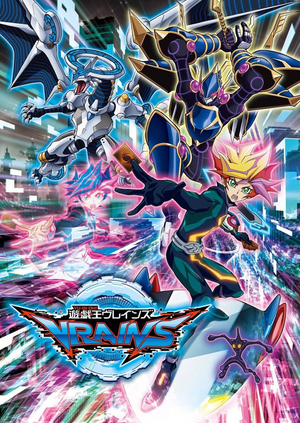 However, in "LINK VRAINS", a mysterious hacker group that hacks via Dueling has appeared: The Knights of Hanoi. Their goal is to destroy the "AI World" known as "Cyberse" that exists somewhere in the depths of the Network.
However, there is one Duelist who stands against the threat to "LINK VRAINS". His name is "Playmaker". He has become famous in the Network World for crushing the "Knights of Hanoi" in fierce Duels, without mentioning his name. But the true identity of "Playmaker" is ordinary high school student "Yusaku Fujiki", who pursues the "Knights of Hanoi" that appear in VRAINS in order to find out the truth of an incident that happened in his past.
Characters
[
edit
]
Etymology
[
edit
]
VRAINS is a combination of the acronyms VR, AI, and NS, standing for Virtual Reality, Artificial Intelligence, and Network System.[9] The acronyms are displayed prominently during the English opening.
Development
[
edit
]
As of episode 14, Masahiro Hosoda stepped down as director and was replaced by Asano Katsuya. As of this episode, the backgrounds of LINK VRAINS and the Link Summoning methods were changed and added more detail, and the point gauge for Link Monsters depicts the monster's Link Arrows. [1] As of the same episode, the series is under the supervision of Satou Tatsuo (best known as the director of the Martian Successor Nadesico series).[10]
Production issues behind the scenes forced the show to include a large number of "recap episodes", which the series has become notorious for. Asano Katsuya took to Twitter to apologize for these episodes after the fourth such episode; explaining that they were needed to allow them to slowly improve the series.[11]
The series appears to have changed direction during development significantly. When it was first revealed at Jump Festa 2017, Yusaku was described as a high-schooler and a hacker who doesn't like standing out, but who got drawn into encounters with people as he tries out Dueling for once. In the series proper, Yusaku is an experienced Duelist whose social stigmas stem from both his trauma and his wish to keep others out of his fight. The show's theme was said to be "Take a step forward, and try!", on the premise that kids should start to try things out instead of just giving up at the first try due to being overwhelmed by information.[12]
Opening themes
[
edit
]
Japanese opening theme 1: With The Wind
Performer: Hiroaki "TOMMY" Tominaga
Episodes: 001-046
Japanese opening theme 2: go forward
Performer: KIMERU
Episodes: 047-102
Japanese opening theme 3: calling
Performer: KIMERU
Episodes: 103-120
English opening theme: Yu-Gi-Oh! VRAINS Main Theme
Ending themes
[
edit
]
Japanese ending theme 1: Believe In Magic
Performer: Ryoga
Episodes: 001-024
Japanese ending theme 2: Writing Life
Performer: Goodbye holiday
Episodes: 025-046
Japanese ending theme 3: BOY
Performer: uchuu;
Episodes: 047-070
Japanese ending theme 4: glory
Performer: BAND-MAID
Episodes: 071-095
Japanese ending theme 5: Are you ready?
Performer: BiS
Episodes: 096-120
English ending theme: Yu-Gi-Oh! VRAINS Main Theme
Episodes
[
edit
]
Differences in adaptations
[
edit
]
Season distribution
[
edit
]
In both the Japanese version and the dub, Season 1 is Episodes 001-046. In the dub, Season 2 is Episodes 047-082 rather than Episodes 047-103; the rest of Season 2 would be included in Season 3 in the dub, which was originally episodes 104-120 in the Japanese version.
General edits
[
edit
]
General edits involve changes to dialog, names and scoring.
Some names are Americanized.
All of the music in the dub is rescored.
The point gauge sound effects are replaced with different ones than the originals, though some other sound effects are retained.
Dialogue is added in some scenes to remove silence.
The violence of the Hanoi Project is toned down in the dub. Yusaku is not always shown being electrocuted for losing a Duel, merely stating that he was punished for losing. However, the mentions of starvation as punishment are still retained, as is Yusaku's resultant trauma.
Death is heavily toned down; though both occasions where Kiyoshi Kogami is said to have died retain heavily implication that he has perished. However, the death of Windy's partner is confirmed in the dub, while his survival was left ambiguous in the Japanese version.
Paint edits
[
edit
]
Paint edits involve changes to the footage. General edits that involve digital paint goes under this category.
The Duelists' names in the versus screen at the beginning of all Duels are removed and the LP counter is enlarged.
Skirts and socks on female characters are lengthened to avoid any sexual implications.
Most of the Japanese or English text is digitally painted out, cut or replaced with Ignis Algorithms, though more is retained than in past dubs.
Some monsters are edited to correspond with their TCG artworks; an exception is "Borrelguard Dragon".
Flames, except the ones generated by Soulburner and Flame, are colored purple and characters on fire are pixelated. (Windy, however, wasn't blurred, though the color of the flames was still altered.)
Virtual magenta blood or wounds are recolored to blue or purple.
Deleted scenes
[
edit
]
Deleted scenes involve cutting footage.
Some close up shots showing significant quantities of text are cut, including closeups on card text boxes.
Most scenes of LINK VRAINS forum posts are cut.
Some scenes that are too violent to be shown are cut, edited or shortened.
Some scenes that have sexual implications are cut, such as Ghost Gal's Link Summoning animation which has cut down the shot that scrolls from her full body turning around to only showing her upper body, and the Link Summoning of "Cyberse Witch".
Yu-Gi-Oh! VRAINS is also (so far) the only series not to have a tournament focused arc or any tournaments at all.

It also is the first series to lack Battle Royale Duels and 2 v 2 Tag Duels, though it featured 1 v 2 Tag Duels.

Yu-Gi-Oh! VRAINS is the first anime series whose English theme song lacks lyrics since Yu-Gi-Oh!.
Yu-Gi-Oh! VRAINS is the first anime series not to have a manga counterpart.
Yu-Gi-Oh! VRAINS is the last series to have Studio Gallop as the head animators for the series. The following series, Yu-Gi-Oh! SEVENS, has Bridge now serving as the primary animation studio.
References
[
edit
]