| | |
| --- | --- |
| | Help support Yugipedia by using our Chrome extension, which redirects links to the old Wikia/Fandom site to Yugipedia, ensuring you see the most up-to-date information. If you have any issues or find any bugs, be sure to let us know on Discord! |
Winged Dragon, Guardian of the Fortress 1
Winged Dragon, Guardian of the Fortress #1
Japanese

砦を守る翼竜

Base

砦を守る翼竜

Kana

とりでをまもるよくりゅう

Rōmaji

Toride wo Mamoru Yokuryū

Translated

Fortress-Protecting Winged Dragon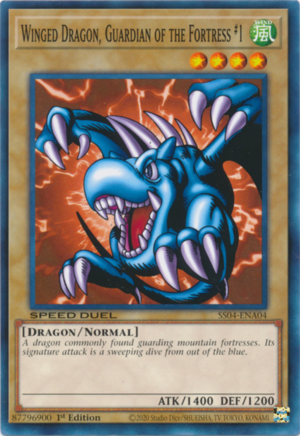 English sets
Worldwide
North America
Europe
Australia
Search categories
Other languages
Language
Name
Lore
French

Dragon Ailé, Gardien de la Forteresse N°1

Dragon que l'on trouve généralement gardant les forteresses de montagne. On le reconnaît à son attaque sous forme de plongeon profond venu de nulle part.

German

Geflügelter Drache, Festungswächter #1

Ein Drache, der häufig Bergfestungen bewacht. Sein typischer Angriff ist ein weiter Sprung aus dem Nichts.

Italian

Drago Alato #1

Un drago che di solito si trova a guardia di fortezze di montagna. Il suo attacco preferito è un'improvvisa picchiata.

Portuguese

Dragão Alado, Guardião da Fortaleza No1

Um dragão comumente encontrado guardando fortalezas nas montanhas. Seu ataque assinatura é um mergulho vindo do céu.

Spanish

Dragón Alado, Guardián de la Fortaleza #1

Un dragón que normalmente se encuentra cuidando las fortalezas de la montaña. Su ataque característico es un violento descenso en picado desde el cielo.

Japanese
砦を守る翼竜

山の砦を守る竜。天空から急降下して敵を攻撃。

Toride wo Mamoru Yokuryū
Fortress-Protecting Winged Dragon

A dragon that protects a mountain fortress. It dives from the sky to attack its enemies.

Korean

요새를 지키는 익룡

산의 요새를 지키는 용. 천공에서 급강하하여 적을 공격.
Sets in other languages
French
French-Canadian
German
Italian
Portuguese
Spanish
Japanese
Korean
Asian-English
In other media
| Page | Medium | Debut date |
| --- | --- | --- |
| Winged Dragon, Guardian of the Fortress 1 (Toei) | Toei anime | 1998-09-12 |
| Winged Dragon 1 (DM1) | Yu-Gi-Oh! Duel Monsters | 1998-12-16 |
| Winged Dragon, Guardian of the Fortress (Labyrinth) | Labyrinth Battle Game | 1999-01-08 |
| Winged Dragon, Guardian of the Fortress 1 (Bandai Sealdass) | Bandai Sealdass | 1999-01-20 |
| Winged Dragon 1 (DM2) | Yu-Gi-Oh! Duel Monsters II: Dark duel Stories | 1999-07-08 |
| Winged Dragon 1 | Yu-Gi-Oh! Forbidden Memories | 1999-12-09 |
| Winged Dragon, Guardian of the Fortress (anime) | Anime | 2000-04-18 |
| Winged Dragon 1 (DDS) | Yu-Gi-Oh! Dark Duel Stories | 2000-07-13 |
| Winged Dragon 1 (DM4) | Yu-Gi-Oh! Duel Monsters 4: Battle of Great Duelist | 2000-12-07 |
| Winged Dragon, Guardian of the Fortress (anime DDM) | Anime Dungeon Dice Monsters | 2001-03-20 |
| Winged Dragon 1 (DDM) | Yu-Gi-Oh! Dungeon Dice Monsters | 2001-03-21 |
| Winged Dragon,Guardian of the Fortress 1 (DM5) | Yu-Gi-Oh! Duel Monsters 5: Expert 1 | 2001-07-05 |
| Winged Dragon, Guardian of the Fortress 1 (DOR) | Yu-Gi-Oh! The Duelists of the Roses | 2001-09-06 |
| Winged Dragon,Guardian of the Fortress 1 (DM6) | Yu-Gi-Oh! Duel Monsters 6: Expert 2 | 2001-12-20 |
| Winged Dragon, Guardian of the Fortress 1 (TSC) | Yu-Gi-Oh! The Sacred Cards | 2002-07-04 |
| Winged Dragon,Guardian of the Fortress 1 (EDS) | Yu-Gi-Oh! The Eternal Duelist Soul | 2002-10-15 |
| Winged Dragon, Guardian of the Fortress 1 (ROD) | Yu-Gi-Oh! Reshef of Destruction | 2003-03-20 |
| Winged Dragon,Guardian of the Fortress 1 (SDD) | Yu-Gi-Oh! Worldwide Edition: Stairway to the Destined Duel | 2003-04-15 |
| Winged Dragon, Guardian of the Fortress 1 (World Championship 2004) | Yu-Gi-Oh! World Championship Tournament 2004 | 2004-02-05 |
| Winged Dragon, Guardian of the Fortress 1 (DBT) | Yu-Gi-Oh! Destiny Board Traveler | 2004-03-18 |
| Winged Dragon, Guardian of the Fortress 1 (Capsule Monster Coliseum) | Yu-Gi-Oh! Capsule Monster Coliseum | 2004-07-29 |
| Winged Dragon,Guardian of the Fortress 1 (World Championship 2005) | Yu-Gi-Oh! 7 Trials to Glory: World Championship Tournament 2005 | 2004-12-30 |
| Winged Dragon, Guardian of the Fortress 1 (World Championship 2006) | Yu-Gi-Oh! Ultimate Masters: World Championship Tournament 2006 | 2006-02-23 |
| Winged Dragon, Guardian of the Fortress 1 (Tag Force 1) | Yu-Gi-Oh! GX Tag Force | 2006-09-14 |
| Winged Dragon, Guardian of the Fortress 1 (World Championship 2007) | Yu-Gi-Oh! World Championship Tournament 2007 | 2007-03-15 |
| Winged Dragon, Guardian of the Fortress (manga) | Manga | |
| Winged Dragon, Guardian of the Fortress 1 (BAM) | Yu-Gi-Oh! BAM | |
| Winged Dragon, Guardian of the Fortress 1 (Bandai) | Bandai | |
| Winged Dragon, Guardian of the Fortress 1 (DDM) | Yu-Gi-Oh! Dungeon Dice Monsters | |
| Winged Dragon, Guardian of the Fortress 1 (Duel Links) | Yu-Gi-Oh! Duel Links | |
| Winged Dragon, Guardian of the Fortress 1 (Rush Duel) | Rush Duel | |
| Winged Dragon, Guardian of the Fortress 1 (gum) | Top Yu-Gi-Oh! Card Gum | |
Video games
Lores and sets