| | |
| --- | --- |
| | Help support Yugipedia by installing our new Chrome extension. This extension automatically redirects any links to the old Wikia/Fandom site to Yugipedia to ensure that you're always viewing the most up-to-date information available. You can enable the extension by clicking "Add to Chrome" on the app's webstore entry. For those of you using Firefox, don't worry—a Firefox add-on to do the same thing will be out soon. If you have any issues with the extension or you come across any bugs, be sure to let us know on Discord! |
Yu-Gi-Oh! VRAINS - Episode 068
"Secret Meeting" is the sixty-eighth episode of the Yu-Gi-Oh! VRAINS anime. It first aired in Japan on September 12, 2018.
Ai suddenly disappeared from the Duel Disk. Having determined that another Ignis could be behind this, Playmaker heads into LINK VRAINS to search for Ai. There, he encounters the Light Ignis. Playmaker then learns about the Light Ignis' motive and the truth behind the Cyberse World's destruction!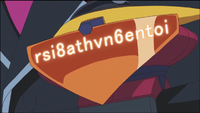 The site address Flame provides to Yusaku and Takeru is an anagram of "Into the VRAINS" and "68", the latter likely referring to the episode's number.
Featured cards
[
edit
]
The following cards appeared in this episode. No cards debuted here.
In other languages
[
edit
]
| Language | Title |
| --- | --- |
| German | Geheimtreffen |
| Portuguese | Reunião Secreta |
| Spanish | Reunión secreta |