It is with heavy hearts that we mourn the passing of our game's creator, Kazuki Takahashi.
Maha Vailo (character)
Maha Vailo is a character version of the card "Maha Vailo" in Yu-Gi-Oh! 5D's World Championship 2009: Stardust Accelerator.
It appears as a Tag Duel opponent, partnered with Armed Samurai - Ben Kei to form the team Get a Weapon!. They are unlocked by defeating Gunnie and Orcus in Tag Duels 10 times.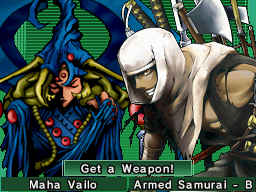 Equipping is Nice
Japanese: 装備っていいね · Rōmaji: Sōbitteī ne · Translated: You Can Equip It