| | |
| --- | --- |
| | Help support Yugipedia by using our Chrome extension, which redirects links to the old Wikia/Fandom site to Yugipedia, ensuring you see the most up-to-date information. If you have any issues or find any bugs, be sure to let us know on Discord! |
Yu-Gi-Oh! 5D's Duel Transer
Yu-Gi-Oh! 5D's Duel Transer
Names
English
Yu-Gi-Oh! 5D's Duel Transer

Japanese
Japanese
遊戯王5D's DUEL TRANSER
Base

遊戯王5D's DUEL TRANSER

Furigana

遊戯王5D's デュエルトランサー

Rōmaji
Yūgiō Faibu Dīzu Dyueru Toransa

Development
Platform
Nintendo Wii
Developer
Konami
Publisher
Konami
Release dates
Japanese
April 21, 2011
North American
December 7, 2010
European
November 16, 2010
Links
Yu-Gi-Oh! 5D's Duel Transer, known as Yu-Gi-Oh! 5D's Master of the Cards in Europe,[1] is the second Yu-Gi-Oh! 5D's game for the Nintendo Wii.
Features
[
edit
]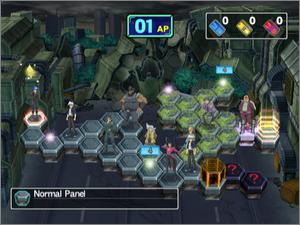 Wi-Fi allows players to play against people from around the world.[2]
Wi-Fi allows players to download the current Forbidden/Banned List.
Gamers are thrown into the Duel of Legend Cup and pitted against 20 characters from the series; some exclusive to the game.[2]
The game uses a hexagonal map.
The game uses quite a few names from Norse Mythology.
Konami Pack features cards based on other Konami games, such as Gradius and Ganbare Goemon (similar to the Midday/High Noon Constellation pack from the Tag Force series).
Trailer
[
edit
]
Starter Deck Contents
[
edit
]
Within the game, the player can choose to play as a male or female character, thus determining their starter Deck:
Male Player's Starter Deck
Female Player's Starter Deck
By introducing the Konami Code (↑ ↑ ↓ ↓ ← → ← → 2 1) while choosing the player character's appearance, an additional design for their avatar will be available for choosing for each gender, based on Dark Magician and Dark Magician Girl. Choosing either of these as the player character gives the player a unique Starter Deck, with each gender being given a different Deck.
Special Starter Deck - Male
Special Starter Deck - Female
Glitches
[
edit
]
"Future Visions" removes from play Synchro Summons if you haven't Normal Summoned that turn, which does not happen in the game normally.
The game takes place in the island Ragnarok, where there is a building called Yggdrasil. The island has been taken over by an evil mastermind, Surtr.
On the island, the player battles the Duelist Corps, whose identity and motive are revealed as the game goes on.[2]
When the player finishes Story Mode, they are allowed to access the Niflheimr area. Niflheimr has no opponents other than Transcenders, but players can unlock new opponents in Free Duel Mode every 2 floors they finish, and they can also find the entries of a journal that detail the backstory of the Ragnarok island and the story of a group of people who arrived to the island long before the game's storyline took place.
Characters
[
edit
]
The game includes characters from the anime and characters exclusive to the game.[2]
Promotional cards
[
edit
]
A set of three promotional cards are included with the game. These cards were used by Devack in the Yu-Gi-Oh! 5D's anime[3] and are as follows:
Credits
[
edit
]
Operation
Staff
Original Character & Monster Design
Producer
Director

Yasunori Kobayashi
Kenyo Sato

Duel Programmer

Hideyuki Takahashi
Akihiro Yamane
Tsuyoshi Shimizu

Character Icon Creation

Yasuhiko Tanaka
Yuki Kato

Sound Producer
Sound Director
Sound Engineer
Deck Advisor
Product Coordinator

Toshifumi Onishi
Masayoshi Otani
Tadashi Kamei

Main Planner
Chief Programmer
Main Programmer
Programmer

Takashi Nagai
Takefumi Matsui
Takahumi Nakamoto
Haruhiko Shimizu

Main Designer

Hidenori Kanbara
Hiroshi Fukuda

Designer

Shinji Kyogoku
Teruyuki Hiraoka
Takumi Nakamura
Masayuki Takaoka
Naomi Takemoto
Atsushi Fukushima
Miki Hase
Cheng Long
Du Lin
Gao Guangye
Wan Guoxiang
Wang Yan
Wang Yuequn
Yu Kai
Zhang Yu
Zou Chungang
Yusuke Ueda
Hiroshi Shimamura
Toshihiko Yamamoto
Takuya Yanai
Hiroyasu Suzuki

Planner

Shinta Takamura
Florian Staeuber
Junichi Hirose
Keisuke Hidehira

Scenario

Sou Mayumi
Yuichiro Kitaoka

Sound Designer
Sound Composer

Tatsuya Fujiwara
Seiichi Takamoto

Special Thanks

Kazuma Nagashima
Miyuki Inoue
Satoko Takemoto
Yasuhiro Yoshiwaka
Shunsaku Yamaoka
Tomokazu Nannbara
Toshiki Kawamura
Yoshiaki Matsushita
Makoto Aridome
Anju Kuriyama

Development Manager
Supervisor
Package & Manual Design

Miho Kosaka
Shizuko Yonedo

Package Illustration
QA Testing
Konami Digital Entertainment Co., Ltd

Norio Kawamoto
Hiroki Muraoka
Satomi Morita
Kenichi Akama
Nolan Gregg

Special Thanks

Koji Yamamoto
Masakuni Nakazawa
Akihiro Takatoku
Motokazu Shibasaki
Takeshi Urabe
Genji Narita
Risako Kawade
Akemi Mase
Shinichiro Kai
Konami Digital Entertainment, Inc.
Konami Digital Entertainment GmbH

Executive Producer

Kenji Shimoide
Hirotaka Ishikawa

All of Original Stuff [sic]


HUDSON SOFT CO., LTD.
Natsume Co., Ltd.
Konami Digital Entertainment Co., Ltd.
And You
Thank you for playing !
PRESENTED By... Konami Digital Entertainment
The following are only mentioned in the Japanese credits of the game.
Operation
Staff
Site Designer

Hiroaki Takahashi
Koji Hatano

Casting

NELKE PLANNING CO.,LTD.
Sawako Todoroki

Cooperating with

Weekly Shonen Jump Editorial Department
V-Jump Editorial Department

Card Recognizing System
System Development
System Programming
References
[
edit
]
External links
[
edit
]