| | |
| --- | --- |
| | Help support Yugipedia by using our Chrome extension, which redirects links to the old Wikia/Fandom site to Yugipedia, ensuring you see the most up-to-date information. If you have any issues or find any bugs, be sure to let us know on Discord! |
Mimi Atachi
Mimi Atachi (安立ミミ Atachi Mimi) is a character in the Yu-Gi-Oh! SEVENS anime. She is Number 6 among the "Top of Hexagon", the six executives of the Goha Corporation, and she is sent to Goha 7th Elementary undercover as a transfer student to investigate Rush Dueling.
Appearance
[
edit
]
Mimi is thirty-seven years old, but she has the appearance of a preteen, referring to herself as the "eternal elementary school student". She is an extremely petite fair-skinned woman with pink eyes and auburn, shoulder-length hair, to the extent that even Yuga Ohdo is taller than her.
At the Goha Corporation, Mimi dresses in the identity-concealing garb that all Goha employees wear; a helmet emblazoned with the Goha Corporation logo that completely covers her face save her mouth, a white mini-dress lined with black and emblazoned over her heart with the Goha Corporation logo over light grey clothing, white gloves with black cuffs, and a darker grey cape.
Mimi wears stereotypical girls' clothing when she enters Goha 7th Elementary as a transfer student; a pale pink dress reaching to mid-thigh with a flared skirt, white lace at the neck and cuffs, buttons down the front, and a red bow tied at the back of her waist, in addition to white knee-length socks tied at the cuffs with pink ribbon, and red buckled shoes with thick heels. She wears a charcoal variant of this dress when visiting the A.I. Restaurant for the Top of Hexagon get-together. When Mimi is conducting missions in secret, she wears dark clothing over her dress, including a concealing bandanna tied under her nose.
Outside of work and school, Mimi wears more normal clothes. When she visits a bar she wears a red dress and black heels, wearing a sign around her neck that states "I am an adult". At home, she wears a pink sweater and tan pants, and a white apron and scarf tied over her hair when cooking. In Yoshio's badly drawn recap, he depicts her with devil horns.
Personality
[
edit
]
Mimi is dedicated to the ideals of the Goha Corporation, and any ideas against their control she immediately dismisses. She is hard-working as a result of the dismissal she is often subjected to due to her youthful appearance and eager to rise higher in the Goha Corporation. Mimi also demonstrates little patience for Yoshio's interest in Rush Duels initially and threatens to stop making his favorite napolitan spaghetti if he brings up the topic again. She was reportedly horrified when Yoshio began dressing and acting like Good Max, believing that Rush Dueling had turned him into a delinquent. Mimi is so dedicated to these ideals that she assumes Yuga Ohdo must be a villain before she meets him and his genuine passion and innocence catch her off-guard to the point that she initially refuses Yuga's offer to lend her his notebook despite it being her objective, as she assumed he was tricking her. When she does acquire the notebook, Mimi accepts Yuga's offer was genuine, but worries that she acquired it in a cowardly manner.
Though she can be somewhat strict, Mimi ultimately has the best interests of those she cares about at heart. She allows Yoshio to Rush Duel despite her misgivings against it once she sees how he enjoys it, and when she sees Luke hesitate to help Romin Kirishima she encourages him to do so, as Romin is his friend, despite her actions.
When undercover at school, Mimi projects a more cutesy manner to act more like a child. She claims to be interested in Rush Dueling, and disguises her true intentions behind this claimed interest. Despite this, she is a genuine fan of RoaRomin, waving in appreciation at Roa Kirishima and taking the opportunity to take a selfie with him when she confronts him over his claim of Yuga's "Sevens Road Magician" card being illegal. Mimi also adores cats, fawning over the appearance of Schrödinger Nekoyama and his "Cat" monsters and she is disappointed when he is dropped down a trapdoor.
Despite her youthful appearance and mannerisms at times and her position in the high-tech Goha Corporation, Mimi herself is very old-fashioned; she still fondly reminisces the time of the Bubble Era as reflected in her Deck and she carries an old corded phone as part of her disguised school bag rather than a more modern smartphone, though it does contain some modern functions. She also gives gifts to Yuga and his friends that use older technology. Mimi also has a habit of monologuing either internally or externally without care for her surroundings.
Etymology
[
edit
]
「安」 can mean "stability​", "peacefulness", or "inexpensive"; 「立」 means "standing up". Together, the two characters can also be written as "Adachi", which is one character off from 「アダチル」 (adachiru), abbreviation for "adult child(ren)".
Biography
[
edit
]
History
[
edit
]
Mimi's youthful appearance caused her significant difficulties in her adulthood, as many people assumed her to be a child. Despite these issues, she eventually came to view this as an asset, and she swiftly rose through the ranks of the Goha Corporation to become one of the Tops of Hexagon, and even had a son, Yoshio.[2][3]
Birth of Rush Duels
[
edit
]
Duel Monsters rules known as "Rush Duels" were implanted into Goha Corporation's servers, and though the Goha Corporation worked to suppress them by deleting any videos and web pages that mentioned them, they could not eradicate the rules themselves and worried about how it had been installed on the server.[5] Much to her horror, Yoshio liked them and asked if he could use them, and Mimi harshly warned her son not to, telling him they brought chaos and confusion to the world and warning him that if he brought the topic up again she wouldn't make him napolitan spaghetti. Yoshio began dressing as Good Max, and Mimi feared that her son had become a delinquent due to Rush Dueling.[3]
New information came to the Tops of Hexagon's attention that Yuga Ohdo had created Rush Dueling and a notebook said to contain the secrets of Rush Dueling was spotted in his possession on the cover of the Goha 7th Elementary Newspaper. Mimi offered to go undercover at Goha 7th to obtain the notebook, reassuring her fellow Tops that everything would be fine.[2]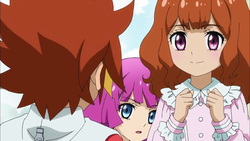 Mimi also researched Yuga's friends, Romin Kirishima, Gakuto Sogetsu and Tatsuhisa "Luke" Kamijo in preparation to befriend them, and she transferred to Yuga and Romin's class at Goha 7th Elementary, quickly gaining Yuga's trust with her claim of liking Rush Dueling. As she reported her progress to Goha Corp, she reflected that Yuga hadn't seemed villainous like she thought he would and she reflected that he reminded her of Yoshio. She approached Yuga and his friends after school, but Yuga's friends were suspicious of her, forcing Mimi to gain their trust with gifts, though Yuga declined his. Yuga took Mimi to his Road Laboratory and showed off his other "Roads", including Kaizo, a Goha Corporation Drone he had modified. Mimi spotted Yuga's notebook, but Yoshio called her and she irritably replied using her phone-bag, inadvertently revealing it to the children, and Mimi quickly fled, claiming her favorite fashion drama was on. She returned that night to steal Yuga's notebook, but Romin had anticipated her moves and she and the other children revealed their presence. Mimi claimed she had simply wanted to learn more about Rush Dueling, prompting Yuga to offer her the notebook. Mimi was suspicious of Yuga's motives, and fearing he was trying to trap her, she refused the notebook, eventually suggesting a Rush Duel with Yuga over the notebook; if Yuga won, he would give it to her, but if Mimi won, they would forget the whole affair. Mimi brought out several monsters and increased her LP on her first turn, but Yuga depleted most of her LP with "Sevens Road Magician" and "Piercing!". Fortunately, Mimi was able to draw and Tribute Summon "Dian Keto the Gold-digging Master" and destroy "Sevens Road", but when she tried to attack directly, Yuga destroyed all of her monsters with "Dark Liberation". Yuga Tribute Summoned "Brave of Dawn, Lydacross" on his next turn, allowing Mimi to revive "Dian Keto" with "Mirror Ball", but Yuga Summoned two other monsters and increased the ATK of "Lydacross", despite Mimi's claims her monsters' beauty would endure. Mimi was defeated, and as he had promised, Yuga gave his notebook to Mimi, claiming she would like Rush Dueling even more after reading it. Mimi realized that Yuga's offer had been genuine, and agonized over whether to keep the notebook or not, but eventually decided to turn it in. Unfortunately for Mimi, the notebook contained only Yuga's childish designs and no concrete information, though her fellow Tops took it seriously.[2]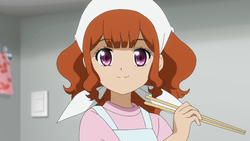 Mimi returned to Goha 7th the next day, spying on Yuga and vowing to someday defeat him and uninstall Rush Dueling.[2] She spied on Yuga, Kaizo, Gakuto and Luke in an underground chamber, declaring that she would find his weakness and fantasizing about climbing the ladder at Goha Corporation. She didn't realize that Yuga and his friends had left the chamber for a while and she frantically looked for them, spotting a Field Spell Card active across the street. To her shock, Yoshio was Dueling Luke within it. Yoshio was defeated by Luke, but Mimi noted that her son had seemed to enjoy himself despite the loss. She decided to allow Yoshio to Rush Duel, and began making his favorite napolitan spaghetti for dinner that night. When Yoshio returned home, having shed his Good Max suit, he told Mimi that Rush Dueling was really fun, and Mimi told him that he'd have to make sure he kept up his studies as well, welcoming her son home and serving him his dinner.[3]
RoaRomin had a concert at the Seven Hells Hall that Mimi attended, though she was displeased to see Yuga and his friends in the VIP area and she squeezed through the crowd to join them. As she cheered over Roa Kirishima's appearance, Roa proposed a Duel between him and Yuga for the rights to Rush Dueling, a prospect that Mimi was apprehensive of as it would make RoaRomin more popular, and their concert tickets more difficult to obtain. Roa suggested a three-vs.-three team Duel, with Luke Dueling Ushiro Omaeno, RoaRomin's bassist, and his name (Japanese for "Behind you!") initially confused Mimi until she and Kaizo looked it up in the band's guide.[6] Luke defeated Ushiro, and Gakuto Dueled next, facing Romin. Mimi was quite surprised to learn that Romin had been spying on Yuga and his friends. As the Duel progressed, Menzaburo Oomori, an apparent friend of Yuga's arrived to cater for the concert, confusing Mimi. The food sent Romin into a crazed state, which Roa explained was due to her hunger, and she defeated Gakuto, leaving Roa to face Yuga.[7] During Roa's first turn, he used stage tricks to enhance his presence, much to Mimi's exasperation. During the Duel, after Yuga used the same combo he defeated Mimi with, Roa asked Yuga where he got "Sevens Road Magician", and Yuga revealed he had been given the card at the 60th Goha Dueling Tournament by a Duelist who had been disqualified. Roa suggested the Duelist had been disqualified due to "Sevens Road Magician" being an illegal card, sending Mimi into a panic, as she didn't know what to do regarding the legality of a card. Nevertheless, she donned her Goha regalia and interrupted the Duel. After taking a selfie with Roa and deflecting Gakuto's suggestion that they had met her before, she asked Roa the basis of his claim. Roa suggested Mimi look up the card herself, and Mimi did so, but was unable to find any information on "Sevens Road Magician", which Roa suggested to be a flaw of the Duel Disks. Mimi was incensed at the insinuation that the Goha Duel Disks were flawed, but then received a call from Goha Corp explaining that many people were searching for the information on "Sevens Road Magician" but finding nothing. Roa then noted that "Sevens Road Magician" would be treated as a Forbidden card under Goha Duel Rule No. 66, Article 6, and President Goha himself then rang Mimi and reminded her about Rule 66, Article 66; a Duel with a Forbidden card could continue until the card was drawn, at which point Yuga would be disqualified. Luke then rallied Yuga's friends to look for information on "Sevens Road Magician", impressing Mimi. She returned to her seat when the Duel continued, watching as Roa forced Yuga to draw more cards in hopes of drawing out "Sevens Road Magician".[1] Yuga eventually drew "Sevens Road Magician", but then a Relic emerged from the ground and projected the Duelist that had given the card to Yuga, Otis. To Mimi's shock, Yoshio then arrived in his Good Max costume with Goha 7th Elementary's Newspaper Club, and they confirmed that Otis was in fact a Goha employee who had been disqualified as they were not permitted to enter the tournaments. Otis claimed the card was legal, and Mimi searched its info again, finding that Otis was correct; Roa had been blocking the card data on the net. Despite Roa's tactics, Yuga still wanted to continue the Duel, wagering the title of King of Duels on the match, impressing Mimi with his capacity to open the hearts of his enemies. Mimi was shocked by Roa's strength when he Dueled for real, though Yuga managed to win the Duel. After the Duel, Mimi alerted Goha Corporation and led an effort to take possession of the Relic, but it sunk into the ground, escaping their capture.[8]
Maximum
[
edit
]
Mimi went to the A.I. Restaurant to attend a get-together for the Tops of Hexagon, only to run into Luke, Yuga, Romin and Gakuto. They asked for Mimi's help to get into the restaurant, as Yuga, Romin and Gakuto had previously been disallowed from entrance, and Mimi agreed to help them, while plotting to hopefully pursue information about Otis and the Relic. Mimi claimed she often came to the restaurant with her parents, but she had to quickly silence a Goha Corporation Drone when it arrived to tell her about the get-together until the pretense of going to the bathroom. She contacted the Goha Corporation to inform them she would be absent from the get-together due to Yuga's presence and explained her goal, but when she returned to their table, she found the kids gone. Luke eventually returned with no idea where the others were either, so they searched the restaurant for them. They eventually found them in the dishwasher's room, where Romin was Rush Dueling Arata Arai. Mimi encouraged Luke to step in, as his friends were in the situation due to his fault. To Mimi's shock, Yuga accused Arai of cheating using a function in his Duel Disk, something Mimi didn't believe possible due to the functions of Goha-produced Duel Disks. Luke hesitated to step in, calling Romin a traitorous spy, though Mimi told him Romin was a friend who loved Rush Dueling as much as they did. This inspired Luke to use his "Luke Devil" power to deactivate the cheating function of Arai's Duel Disk, though Arai was still able to retrieve his "White Foam - Bleach Motor" Spell Card even without cheating. Luke began to gloat over how he'd helped Romin, much to Mimi's disapproval, driving Romin into a rage and she defeated Arai in a single turn. After the Duel, Mimi noted that Romin had been crying, wanting to express her happiness at Luke's aid. She then accompanied them to a door where Kaizo had apparently passed through, where they met Nail Saionji.[9]
Mimi was shocked to learn that Nail was the programming genius she'd heard about at Goha Corporation. Nail challenged Yuga and his friends to retrieve the data of Kaizo from him by defeating the Duelists in the Garden of Providence, and the first Duelist they found was Schrödinger Nekoyama. Mimi was appreciative of Nekoyama's cat-shaped headpiece and "Cat" monsters, but was shocked to see Luke, Nekoyama's opponent, getting so worked up during the Duel due to having to guess the top card of his Deck thanks to Nekoyama's card effects. Luke was eventually able to see the top cards of his Deck with his "Thrust Dragon Bunker Strike", but then forgot the order, much to Mimi's exasperation, though he was able to guess his top card correctly and defeat Nekoyama. Mimi applauded his victory, but was shocked when Nail dropped the defeated Nekoyama down a trapdoor. Nail then showed them out of the Garden of Providence, telling them to return the next day.[10]
The next day, Mimi spied on Yuga, Luke, Gakuto and Romin from the roof of the Road Laboratory, worried that Nail's success would jeopardize her position at the Goha Corporation. She followed them to the Hologram Man's chamber, but when she entered the chamber to spy on them, she found that all four of the kids had vanished.[11]
Mimi uses a Bubble Era Deck, composed of LIGHT Aqua monsters. Her monsters are based on older female monsters, but with a flair to them based on the Bubble Era. Her strategy largely focuses on defense, gaining LP and assembling defending monsters quickly.
References
[
edit
]