| | |
| --- | --- |
| | Help support Yugipedia by using our Chrome extension, which redirects links to the old Wikia/Fandom site to Yugipedia, ensuring you see the most up-to-date information. If you have any issues or find any bugs, be sure to let us know on Discord! |
Yu-Gi-Oh! - Duel 141
"The Calling of the Powers" (呼び合う力 Yobiau Chikara) is the 141st chapter of the Yu-Gi-Oh! manga. In its first English printing, it was numbered as the 82nd chapter of Yu-Gi-Oh! Duelist. In the 3-in-1 edition, its number was changed to match the original Japanese printing.
Yugi breaks down seeing his Millennium Puzzle being undone by Mr. Clown, but Ryuji tells his father to stay out of it, because the match was between him and Yugi. Yugi recomposes himself in order to continue the game and obtain his Millennium Puzzle back, but Ryuji turns the tables and corners Yugi once more. At that time, Dark Bakura shows up.
Summary
[
edit
]
Dark Bakura looks at the pointer of the Millennium Ring as it points towards the Black Clown, musing that he senses an ill omen around the Millennium Puzzle and that something bad must have happened to it. He comments that the king is needy, and as he looks up at the Black Clown sign, he muses that the Millennium Items contain fragments of memories that are destined to be united one day; his Ring and Yugi's Puzzle are part of the same mind. He needs Yugi Mutou to wield the Puzzle, after all, Yugi is the only host the Puzzle has chosen in 3000 years. As long as Dark Bakura still has use for Yugi, anyone who harms him will have to answer to him. With that, he throws open the doors to the Black Clown and heads inside. The loud bang attracts the attention of Blankey, Honda's dog. Honda wonders if he was seeing things, or was that Bakura? Blankey is still kicking up a fus, so Honda calms his dog down. He comments that this is the Black Clown game store, and it's the place Yugi said he was going to go to buy that new game today. He muses that Bakura must be buying the game too, and decides that Jonouchi should be at Yugi's place, and decides to stop by for a bit. He asks Blankey not to bite Jonouchi's butt again.
In the Black Clown, the security guards tell Dark Bakura with mock politeness that the store is closed for the day and to come back tomorrow. Dark Bakura doesn't reply, and the guard angrily tells him that he knows Dark Bakura can hear him. Dark Bakura looks up with a smile, much to the guards' fear, and the Millennium Ring glows around his neck as he calls the guards "human scum" and orders them out of his way.
The Millennium Puzzle shatters as Yugi screams in grief. Mr. Clown laughs, asking if Yugi sees the Puzzle in pieces. Now the legend of the Millennium Puzzle is back to where it began. Yugi sobs as Mr. Clown gloats that his son Ryuji will solve the Puzzle and become the new King of Games. Yugi sadly picks up the pieces of the Puzzle, thinking that it took him years to solve the Puzzle and meet his other self. He angrily asks how Mr. Clown could break his other heart, and Mr. Clown scoffs that if Yugi wants the Puzzle back, he'll have to beat Ryuji, but it's too bad that he won't have a chance without the Puzzle.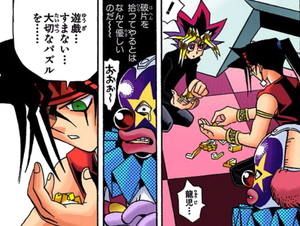 Ryuji gets up and helps Yugi pick up the pieces of the Puzzle, shocking his father with his kindness. Ryuji apologizes to Yugi; he knows it was an important Puzzle for him. Yugi thinks Ryuji's name, and Ryuji glares at his father and snatches the Puzzle base away from him, ordering him not ot touch the Puzzle anymore. Mr. Clown wonders what his son is saying, and Ryuji apologizes, stating that this is his battle. He tells Yugi to sit down and they'll finish the game. Yugi wipes away his tears, as Ryuji reminds him that whoever wins this fight gets the Millennium Puzzle; that rule won't change. Yugi sits across from Ryuji, glancing at the Puzzle pieces and urging his other self to hang in there; he promises to put the Puzzle back together, and he promises that he'll get him back.
The score stands at Ryuji on 1 Life Point and Yugi on 2. Yugi thinks that he'll win if he can hit Ryuji just one more time as his "Black Ninja" stands across from Ryuji's Dungeon Master. Ryuji rolls, declaring that he won't let Yugi. "God Orgoth" attacks, cutting "Black Ninja" in half. Yugi thinks that Ryuji destroyed "Black Ninja" - his only creature in enemy territory, and now he only has three creatures left; "Iron Golem Gorogon", "Little Wizard" and "Duker of Twin Swords", while Ryuji has four creatures, including the 2000 ATK "God Orgoth". Ryuji reassures Yugi that it's not as bad as it looks; he can't summon anymore creatures to the board since he's dimensioned all of his dice but the three in his hand. He tells Yugi that it's his turn and urges him to roll his dice. Yugi thinks that he doesn't have any way to attack right now, and Ryuji will be coming into his territory, so he'd better concentrate on defense. He rolls his dice, and moves "Duker of Twin Swords" towards his Dungeon Master.
Ryuji declares his turn and he rolls, getting at least two Movement Crests. He muses that Yugi is trying to gather his forces before Ryuji can move into his territory, but he's not fast enough. "God Orgoth" advances, heading straight for the Warp Crest as Yugi observes. Ryuji agrees; he's charging in and taking the warp route right onto Yugi's home turf. "God Orgoth" vanishes into the crest, emerging on Yugi's field. Yugi swallows nervously; if he doesn't do something, "God Orgoth" will rampage through his side of the board. He rolls his dice, getting two Movement Crests and a Summon Crest. He moves his army to stand guard around his Dungeon Master. Ryuji warns Yugi that a wall of creatures won't stop "God Orgoth" and now it's his turn. "God Orgoth" attacks, cutting "Iron Golem Gorogon" in half with one swipe of its Diamond Blade. Yugi gasps as Ryuji thinks that Yugi only has two creatures left.
Yugi declares his turn and he rolls again, getting a Movement Crest, an Attack Crest, and a Summon Crest. He has his "Little Wizard" attack with "Magic Lightning Rod", but since he's using a magic attack, "God Orgoth" can use Defense Crest to increase his defensive power. He uses two Defense Crest, nullifying the magic attack for the turn. Yugi gasps that "Little Wizard's" attack was deflected, and on Ryuji's turn he gets to strike back. "God Orgoth" plunges its massive blade through "Little Wizard's" stomach, splitting it in half and leaving Yugi with just one creature against Ryuji's four. Ryuji tells Yugi to give up; it's impossible to fight back with just one creature. Yugi looks crestfallen, and Mr. Clown asks how Yugi likes that; now does he realize that he's no match for Ryuji? Yugi wonders if he's really going to lose, and Ryuji grins, declaring that the Millennium Puzzle is his.
But Dark Bakura laughs from the doorway into the room, commenting that it's too bad that Ryuji can't handle the Puzzle. Mr. Clown asks in shock who he is, and Dark Bakura states that for the last 3000 years, only one person has been able to wield the Millennium Puzzle, and that person is Yugi. Yugi gasps Bakura's name as he approaches the table, and Ryuji shouts his name too. Dark Bakura comments that he can't believe that someone of their level would think he could actually use the Puzzle. If he were Ryuji, he wouldn't try it, as he'll die horribly if he does. Yugi realizes that it's not Bakura talking, but the spirit of the Millennium Ring. He nervously begins to ask Bakura something. Dark Bakura reassures Yugi that he's not the same as before and has turned over a new leaf. Right now, he's Yugi's friend. Yugi looks skeptical as Dark Bakura examines the gameboard, musing that he sees. The odds are a bit against Yugi, but that doesn't mean he's lost yet. He tells Ryuji to listen well; in the next few turns, Yugi will turn the tables on him, and he tells him to take a good look at the power of the Millennium Puzzle's chosen host.
Featured Game: Yugi Mutou vs. Ryuji Otogi
[
edit
]
This is a D.D.M. match.
Turn 25: Ryuji
Ryuji draws his last dice. As he has dimensioned his other dice, he cannot dimension any more dice this game. He rolls, but the result is not shown. Ryuji uses 1 Attack Crest to allow "God Orgoth" to attack "Black Ninja" and destroy it.
Turn 26: Yugi
Yugi rolls, but the result is not shown. He uses 1 Movement Crest to advance "Duker of Twin Swords" one space towards his Dungeon Master.
Turn 27: Ryuji
Ryuji rolls 2 land on Movement Crests and one unseen Crest. He uses 2 Movement Crests to advance "God Orgoth" 2 spaces onto his second Warp Crest and transports it to Yugi's Warp Crest.
Turn 28: Yugi
Yugi rolls 2 Movement Crests and 1 Summon Crest. Yugi uses Movement Crests to move his creatures near his Dungeon Master.
Turn 29: Ryuji
Ryuji's roll is not shown. He uses 1 Attack Crest to allow "God Orgoth" to attack "Iron Golem Gorogon", destroying it.
Turn 30: Yugi
Yugi rolls 1 Movement Crest, 1 Summon Crest and 1 Attack Crest. He uses an Attack Crest to allow "Little Wizard" to attack "God Orgoth", but Ryuji activates the second ability of "God Orgoth", paying 2 Defense Crests to increase the DEF of "God Orgoth" against magical attacks; "God Orgoth" survives the attack.
Turn 31: Ryuji
Ryuji's roll is not shown. He uses 1 Attack Crest to allow "God Orgoth" to attack "Little Wizard", destroying it.
Featured Dice
[
edit
]
The following dice creatures appeared in this chapter.
Title pages
[
edit
]
References
[
edit
]